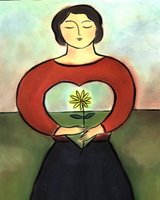 Every body's heart has a certain number beats in it. Doesn't surprise many people. It makes so much sense to a time when people wear clocks on their wrists and measure all things in point-A-to-point-B. But what always amazes me is how unwilling people are to imagine that every heart has a certain amount that it's gonna take to fill it up.
Start to finish makes sense to everyone. We sit at home and have some weird grasp that each second ticks away and doesn't come back. But all that while so many people don't want to admit that there's a whole big chamber in their heart that's never been full. They never take the hint. That empty might not mean there's something wrong. That empty just means there's something more.
There's more. I'll keep looking for it. You'll keep coming here. I'll send a little beacon out past where I know. Past where I know but off to someplace I'm sure is there. Probably the same place these words go every time I hit that little orange button. Maybe they just slip through the cracks. But there's only so many ticks. I'm willing to take that chance.